Although Kefalonia is a vast place as far as Greek islands go, there are some locations that seem to draw more crowds than others. If you've been to our home island before, chances are you have already visited the top locations associated with it. These surely include Argostoli, Fiscado, Assos and Lixouri among other popular locations.
First-time visitors will tend to want to see the places that have been most photographed, however, if this is not your first time visiting, you may wish to steer clear of mass appeal, in search of the best place to stay in Kefalonia to avoid crowds. If that is the case, then by all means read on.
Of course, even if it's still your first time visiting Kefalonia, it is worth choosing to stay in locations without many crowds, as, most of the time, lots of people may detract from the magic and serenity of a place. And especially if you are in for a long stay, it makes more sense to choose a less crowded area as your tranquil sanctuary and visit any of the top locations at your will.
Tranquil holidaying at the best place to stay in Kefalonia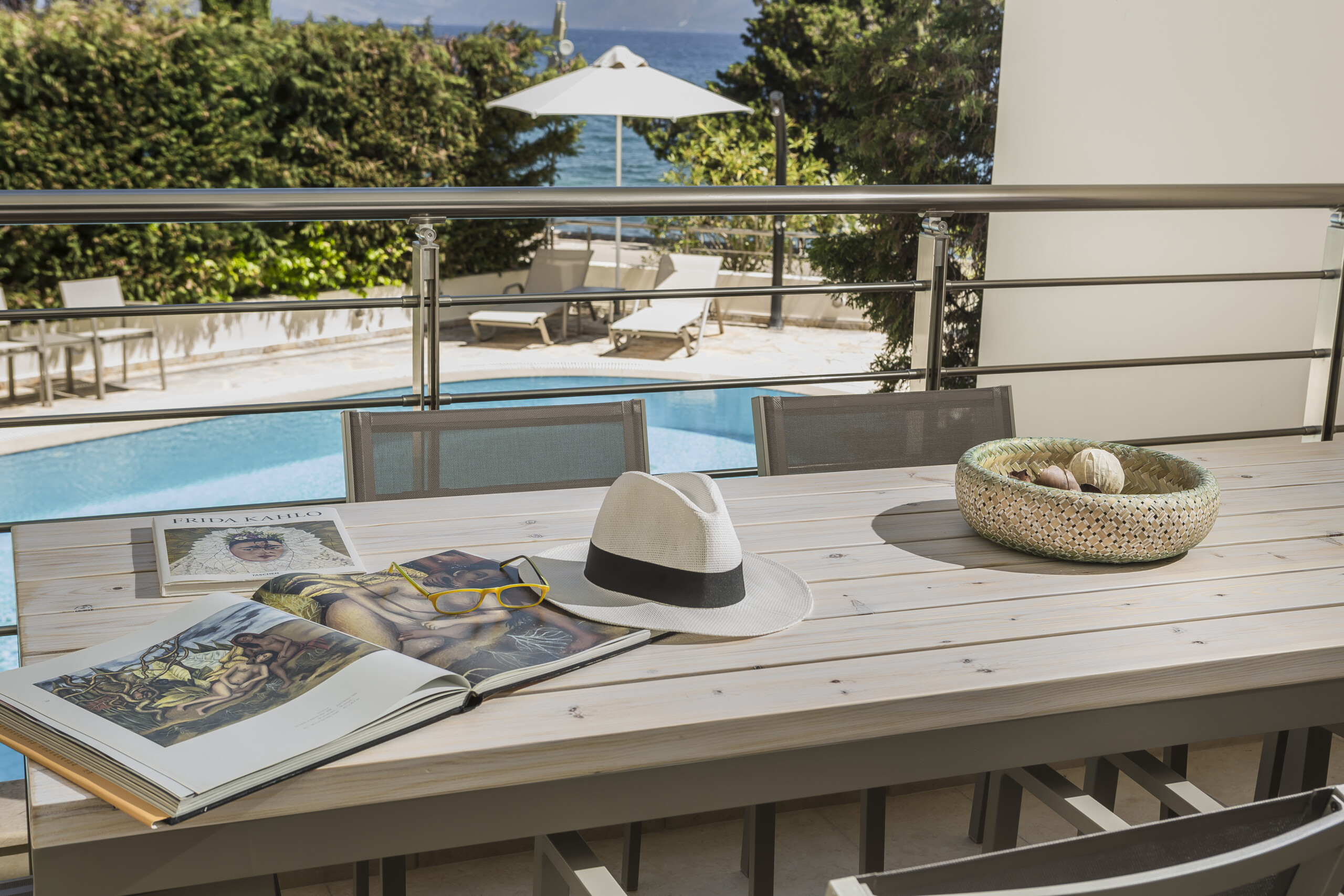 Holidays are about getting the best of both worlds – for us that means a tranquil place of living, yet close by to towns where things are happening. Our Kefalonia luxury suites hotel is the perfect base from which to discover the island, albeit having a serene and comfortable environment to return to after a day full of excitement.
For a list of the best places to stay in Kefalonia to avoid crowds, be sure to check the following:
The Top locations
# 1 Karavomilos – If you choose Meliti Waterfront Suites for your stay, you are securing one of the best places to stay in Kefalonia to avoid crowds, by default. Set along the Ionian waterfront, our complex is serenely tucked away from, but close enough to, a vibrant town, Sami, offering tranquil sea views for days. Karavomilos is a quaint, traditional village with a lovely lake, chosen strategically for guest stays filled with relaxing moments and provides ease of access to explore the rest of the island.
# 2 Sami – Considered a hub for onward excursions of Kefalonia, Sami is a lovely little port village that is actually just a 2-minute drive from the aforementioned Karavomilos. Although the seafront can get a bit busy, you will find that the inland parts of Sami village reveal a more slow-paced character, perfect for quiet evenings and nights strolling around, discovering its colorful little nooks.
# 3 Omala – Nature lovers especially will love to venture out into the center of the island and reach the unique region of Omala, tucked in the hinterland of Kefalonia island. It is the only municipality on the island that does not have a shoreline, but instead, it has the allure of a valley settlement amidst the Aenos mountainous terrain. The area is known for its vineyards and where the Kefalonia variety 'Robola' originates.
# 4 Peratata – This picturesque village is built on the hillside slopes of the aforementioned Mountain Aenos embraced by verdurous surroundings. Peruse the cobblestone streets to navigate your way through traditional stone houses and venture to the top of the hill where you will find the impressive 16th-century castle of Saint George.
# 5 Livathos –  This region is known for its beautiful sandy beaches, meadows, and mountains. Apart from natural beauty, there is a range of archaeological sites, traditional villages and remarkable church buildings worth seeing. Also combining a significant cultural tradition, Livathos definitely meets the requirements of places to visit in Kefalonia to avoid the crowds.
So if you are looking for the most tranquil kind of stay experience on our home island, choose one of the best places to stay in Kefalonia to avoid crowds, like Karavomilos, and either explore the rest of our top 5 through excursions or even brave the crowds and visit the popular locations too by exploring the top things to do in Kefalonia.