The biggest of the Ionian islands, Kefalonia is a natural paradise inundated in green, boasting a veritable treasure trove of world-class beaches like Myrtos, as well as curios like Melissani cave, not to mention some incredibly elegant villages like Assos and Fiskardo. If you're visiting this beautiful island, make sure you station yourself in Karavomilos – a lovely village next to Sami. This affords you the luxury of being in the thick of things, as many of the interesting things to see and do can be easily reached from there. In Kefalonia, places to visit abound, but getting to all of them may prove tricky, especially if your stay is short, so we've gone ahead and done the research for you.
Kefalonia places to visit: Melissani Cave
The first suggestion is one for geology and nature lovers. Melissani cave is an underground lake with crystal-clear turquoise waters. This cave is truly a natural wonder and is located near the town of Sami. Visitors can take a boat ride through the cave to see the incredible rock formations and the sunlight that streams in from the ceiling. It is a surreal experience and a must-visit place in Kefalonia, and only a few minutes away from Meliti Waterfront Suites.
Kefalonia places to visit: Myrtos Beach
Another must-visit place in Kefalonia is Myrtos Beach, which is rightly considered the most impressive beach on the island. The water is an incredible shade of blue and the white pebble beach is surrounded by towering cliffs. Perch yourself on the fine white sand and splash around the crystal clear blue waters, and if you feel up to it check out the nearby caves and coves. But at no point should you consider leaving without an obligatory picture from the top of the massive limestone cliffs.
Kefalonia places to visit: Fiskardo & Assos towns
One of the most charming towns on the island is Fiskardo. This fishing village has a quaint harbor, colorful houses, and narrow streets lined with shops and restaurants. The town is also home to a Venetian lighthouse and several churches. Amble about the scenic cobblestone streets and take in the ambiance, and maybe even take a boat and explore some of the adjacent islands.
Another recommended place to visit in Kefalonia is the picturesque village of Assos, located on a peninsula and enclosed by a green canopy of lush vegetation. Meanwhile, you are also encouraged to discover the scenic streets with the colorful neo-classical houses, and visit the Venetian castle at the top of the hill, as you'll be compensated with spectacular panoramic views of the surrounding areas.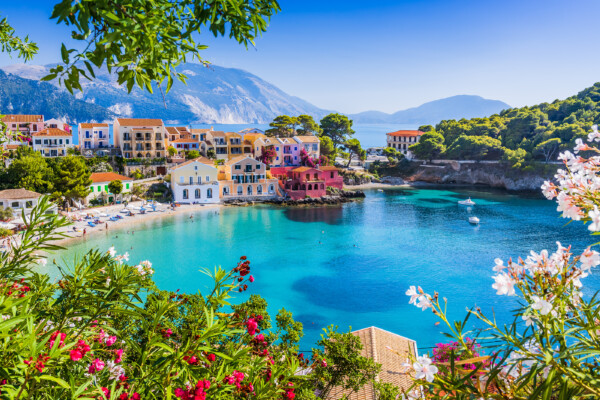 Kefalonia places to visit: Argostoli Archaeological Museum
For history buffs, a visit to the Argostoli Archaeological Museum is practically an obligation, as the museum houses a collection of artifacts from ancient times, including pottery, statues and coins. You can learn about the history of Kefalonia and the Ionian islands, and check out artifacts that date back to the Mycenaean era.
Kefalonia places to visit: Drogarati Cave 
Drogarati Cave is another natural wonder in Kefalonia that is absolutely worth your time, as this geological oddity is over 150 million years old and is filled with incredible stalactites and stalagmites which you can explore and learn about its history and geology. The acoustics in the cave are also remarkable, and visitors can attend concerts and events in the cave's chamber.
Kefalonia places to visit: Mount Ainos National Park
Lastly, for those seeking a thrilling adventure, a visit to Mount Ainos National Park is bucket-list stuff. This park is home to the highest mountain on the island, Mount Ainos, which stands at 1,628 meters. Hike to the summit of the mountain and take in the dazzling views, and maybe even spot some of the endemic wildlife, such as wild horses, eagles and rare species of butterflies.
Kefalonia is a stunning island with a wide range of activities and sights to explore. From natural wonders like the Melissani Cave and Myrtos Beach, to charming towns like Fiskardo and Assos, to historical sites like the Argostoli Archaeological Museum, there is something for everyone on this island. Whether you're looking for a relaxing beach vacation or an active adventure, Kefalonia is the perfect destination. Discover it all during your luxury holidays in Kefalonia with us and we can provide further insight into how to make your stay on the island an experience to remember for a lifetime.