Nestled in the turquoise waters of the Ionian Sea, the picturesque island of Kefalonia beckons family travellers seeking a captivating blend of natural wonders and cultural treasures. This Greek gem offers an array of unforgettable experiences that cater to every member of the family. From stunning beaches to ancient caves and charming villages, Kefalonia boasts a myriad of activities that ensure a memorable vacation. With that in mind, we urge you to read on to find out some of the best experiences for unforgettable holidays to kefalonia for families.
Beach Bliss and Water Adventures
Kefalonia boasts an impressive coastline dotted with breathtaking beaches that cater to families of all ages. The crystal-clear waters and sizzling white-pebble beach of Myrtos are a top attraction. Children will delight being amazed by such disarming beauty, splashing in the gentle waves, and soaking up the sun. Skala Beach, known for its golden sand and shallow waters, is another family-friendly spot, perfect for swimming and beach games. For those seeking more adventurous water activities, head to Xi Beach. Try several watersports like paddleboarding, snorkelling and windsurfing. The shallow waters are great for families and children. The nearby Lixouri Bay is a great spot for kayaking or taking a leisurely boat trip to explore hidden coves and sea caves, creating memories that will last a lifetime. Find out more on the best beaches in Kefalonia to visit on your next holidays to Kefalonia.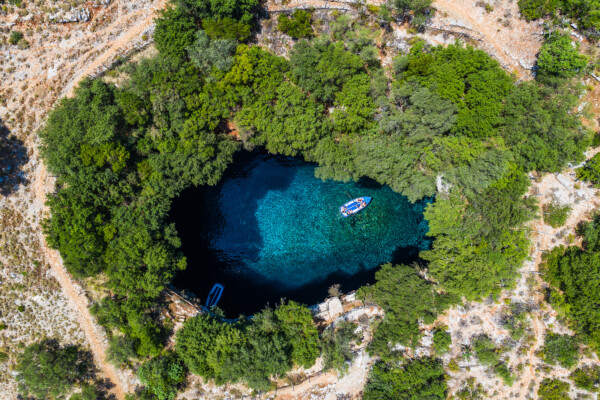 Exploring Ancient Wonders
A visit to the natural wonder that is Melissani Cave is an extraordinary experience for the whole family. Board a small boat and glide across the mystical underground lake, admiring the stalactites and stalagmites that adorn the cave's interior. As sunlight filters through a collapsed roof, it creates a mesmerizing display of colours, leaving visitors in awe. In fact, it is located only a 6-minute walk from Meliti Waterfront Suites.
Kefalonia is steeped in history and boasts ancient sites that are sure to captivate curious minds. The Acropolis of Sami, an archaeological marvel, offers a glimpse into the island's past. Kids can roam among the ruins of temples and fortifications, imagining the lives of ancient Greeks who once walked the same paths.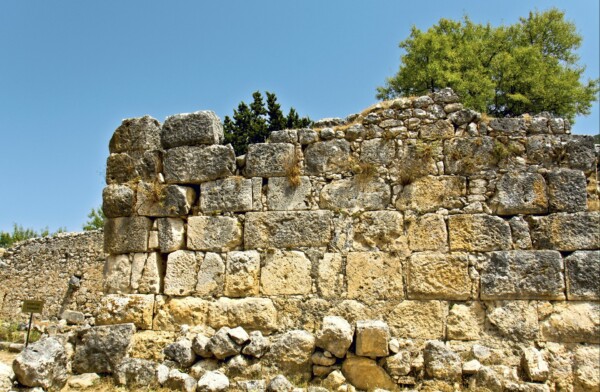 Wildlife Encounters and Nature Trails
Kefalonia is a nature lover's paradise, providing endless opportunities for outdoor exploration and wildlife encounters. The Robola Wine Trail offers a family-friendly hiking experience, winding through lush vineyards and olive groves. As you drive along, you'll be met with a treasure trove of traditional villages, a world of local treats, not to mention the secrets of winemaking.
To immerse yourselves in the island's wildlife during your family holidays to Kefalonia, visit the Ainos National Park. This will usher you into a protected habitat that is called home to a diverse range of flora and fauna as well as the Kefalonian wild horse. Families can embark on nature trails that meander through forests of fir trees and come across picturesque picnic spots. The park also offers birdwatching opportunities, with eagles and falcons soaring overhead. Curious about tours within nature? Be sure to check out these wild nature expeditions in Kefalonia.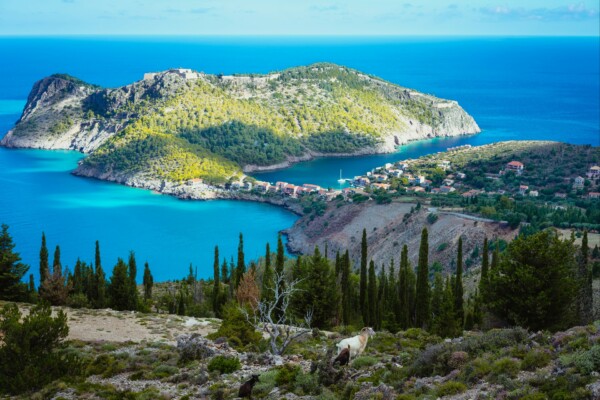 Cultural Delights and Local Cuisine
No visit to Kefalonia would be complete without exploring its charming villages and savouring its delectable cuisine. Stroll through the vibrant streets of villages such as Assos or Fiskardo, a picturesque fishing town known for its colourful Venetian architecture. Browse local shops and indulge in fresh seafood at waterfront tavernas while taking in the serene atmosphere.
Visit Argostoli, the capital of Kefalonia, for more sophisticated dining options, however we strongly urge you to be on the lookout for trying the most famous Kefalonia food. Choose a family-run taverna where you can get the home-cooking experience with traditional recipes that use several local spices products.
Kefalonia effortlessly combines natural beauty, ancient history, and warm Greek hospitality to provide an idyllic setting for your upcoming family holidays in Kefalonia. So, whether you're soaking up Vitamin D on one of Kefalonia's awesome beaches, discovering ancient ruins, exploring nature trails or tasting local delicacies, this island will make sure you are set. Kefalonia's wealth of family-friendly activities ensures that children and adults alike will create cherished memories while discovering the wonders of this Greek paradise.