If you have been looking to discover the best beaches in Kefalonia then start taking notes. One of the things Kefalonia is known for, is its plethora of stunning beaches. Few places on earth can boast of such phenomenal natural beauty; the translucent crystalline waters, the verdant mountain sides, even a breathtaking sea cave with a dome shaped skylight. In Kefalonia, bliss is a feeling that prevails in the air; it's in the summer sea breeze; in the coolness of the glistening sea; in the warm caress of sunshine in a sky with no cloud in sight. Blessed to call this place our home, Meliti Waterfront Suites is ideally located for exploring an island that has been divinely touched. So, here is our guide to the 7 best beaches in Kefalonia, plus one alternative suggestion, that will make your jaw drop as you get lost in remarkable beauty. 
The 7 best beaches in Kefalonia
1. MYRTOS
A beach that has become almost synonymous with Kefalonia, Myrtos is one of the most iconic ones not just on the island but in the world too. Lying between the base of two mountains with cascading verdant cliffs, Myrtos beach is truly a sight to behold. It is at its most astonishing from above. Myrtos is a white pebbled and limitedly organised beach which is how it preserves its pristine condition. Beachgoers are advised to bring their own sun parasols, water, refreshments and snacks. As for access, you should expect a few occasions where the road is quite narrow, but the drive is incredibly scenic.

Best for: Sunsets, epic scenery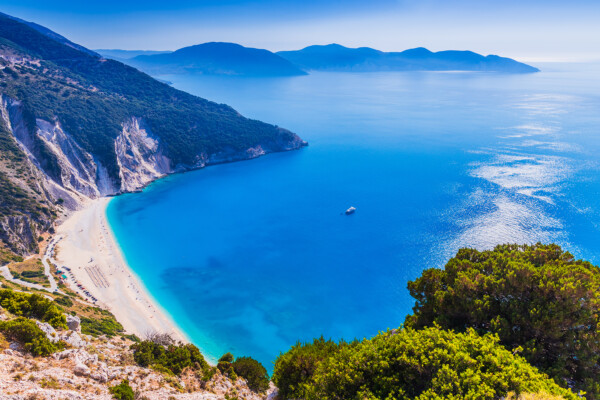 2. ANTISAMOS
One of the beaches featured in the film of Captain Corelli's Mandolin, Antisamos is mostly known for its turquoise coloured waters, an attribute it owes to the small white pebbles and the reflections of the lush vegetation that grows on either side of the bay. With no natural shade, this beach is best for tanning while there are some sun parasols and loungers. You'll find a small canteen on site that serves refreshments and snacks. It is easily accessible from the road to Sami, while near the beach is the monastery of Agrillion atop a hillside, commanding spectacular panoramic views and even onto the island of Ithaca.

Best for: Sunbathing, culture lovers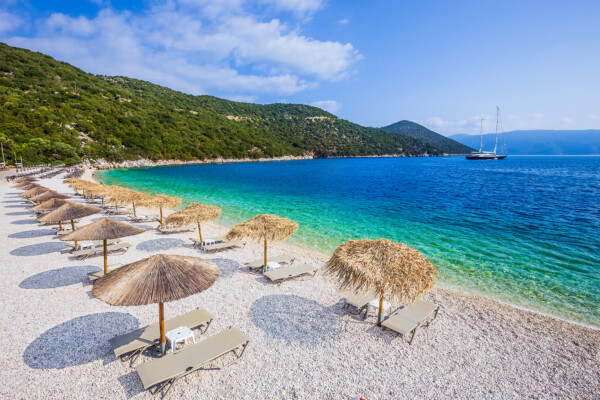 3. PETANI
A beach that has been compared to Myrtos for its uncanny resemblance, Petani beach deserves its place among the best beaches in Kefalonia. It is a great choice for families and those who enjoy comforts. It is about 1 km long, with white pebbles and crystalline waters and surrounded by cascading hillsides. Fully organised, Petani has plenty of amenities; parasols and loungers, seaside tavernas, cafes and beach bars. It is the ideal beach for spending all day in the sun, while you can even stay there for a lovely sunset dinner. 

Best for: Families, beach day-all day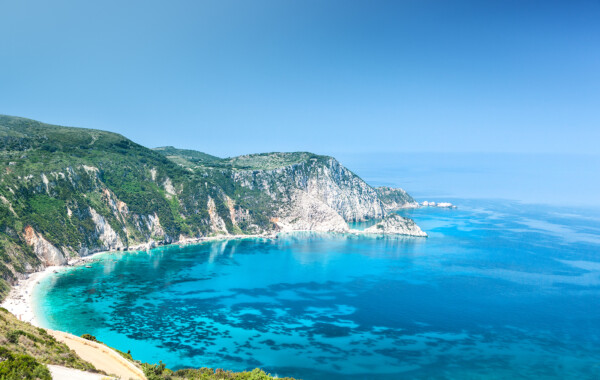 4. MAKRIS & PLATIS GIALOS
A popular choice mostly among the locals, Makris and Platis Gialos are well organised beaches right next to one another, with "makris" meaning long and "platis" meaning wide in Greek. They are sandy with shallow waters that are great for children, a watersports hut and ample choice of beach bars that play lively music. Since they are popular beaches, beachgoers who seek tranquility should probably not opt for one of these two. They have a more cosmopolitan vibe for a beach experience that also combines a bit of entertainment and a touch of action.

Best for: Cosmopolitan vibes, watersports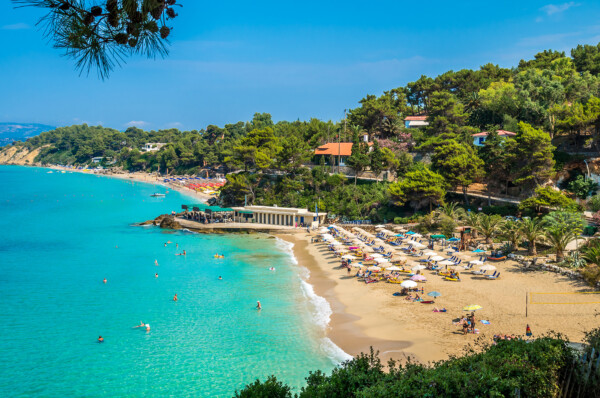 5. XI
A peculiar, crimson beach that is absolutely striking to the eye. Uniquely captivating, it has fine sand that is burnt orange in colour and is hugged by clay cliffs, resulting in an exotic, almost extraterrestrial appearance. Xi beach is for those who seek an off-the-grid beach experience. Not recommended for snorkeling, due to the fine dust-like sand, it is considered to be a sheltered beach that could also be fun for kids. You will find some sun parasols and loungers and a couple of tavernas nearby.  

Best for: Couples, exotic landscape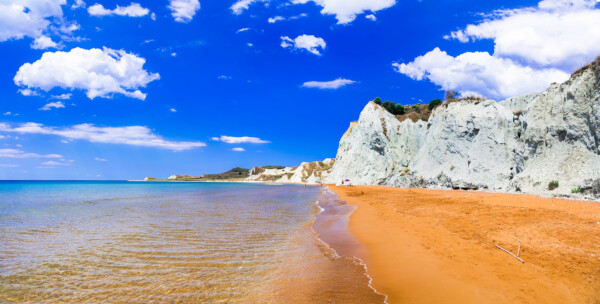 6. LOURDAS
Lourdas beach belongs to the seaside village of Lourdata and has fine sand for the most part with some sections of white pebbles. It is a fully organised beach that draws crowds usually because of its pleasant shoreline and the nearby facilities. Expect locals and tourists alike, since this beach is literally part of the village. There are plenty of sun parasols and loungers strewn along its length but the main road separating the village and beach may detract from having a quiet beach day, if that is what you are after.

Best for: Proximity & choice of facilities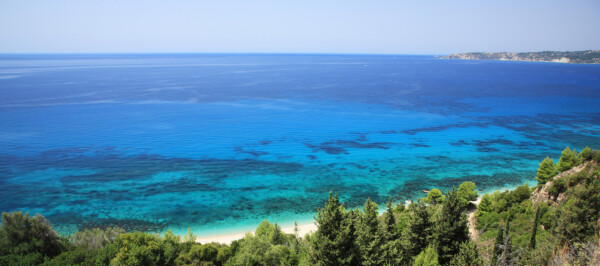 7. PESSADA
For those who seek a more tranquil experience, Pessada beach is an obvious choice with beautiful waters, very fine sand and some interesting rock formations. Pessada is one of the best beaches in Kefalonia that is unorganised with no amenities, which, for many, is a plus since it retains its pristine appearance. So beachgoers should come prepared for lack of shade and bring refreshments. It is highly recommended for snorkeling and swimming, suited to people who seek a relaxing beach day more than anything else.

Best for: Snorkeling, relaxation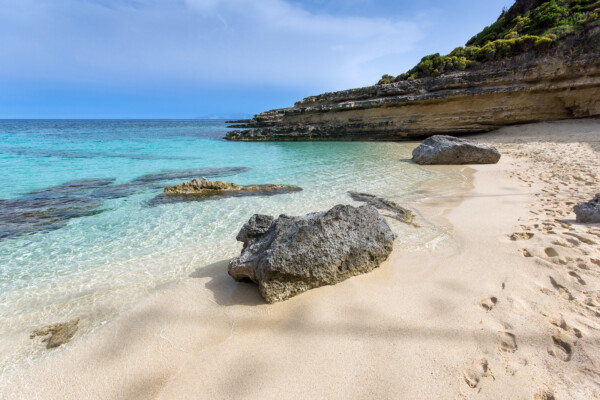 Plus one: MELISSANI
Technically not a beach, Melissani lake cave is simply unmissable. A natural marvel, this underground lake, which is also a sea cave, features a gap in its dome shaped ceiling. This allows the sun to become playful with the light that shines down like a spotlight onto the crystal clear waters, revealing a myriad of colours as it illuminates the depths and reflects on the cavern's walls. You can easily combine it with a more typical beach experience in a single day, since it is literally just two minutes from Meliti Waterfront Suites.

Best for: Nature lovers, beach alternative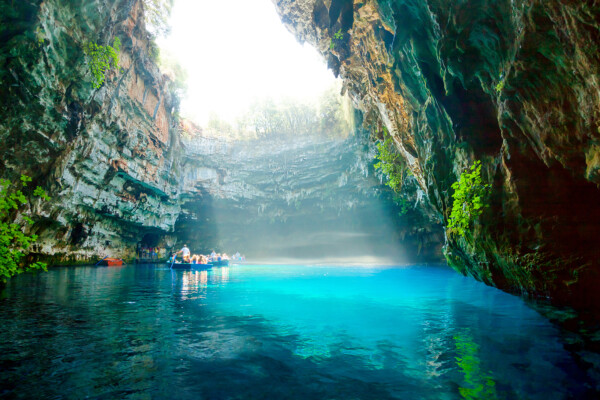 Discover all these amazing places, easily and conveniently by staying at Meliti Waterfront Suites in Karavomylos, ideally located for island explorations and excursions. Well connected and accessible, what's more is our suites are ideal for couples, friends and families seeking well-appointed accommodation in Kefalonia, in an elegant environment that provides all the small luxuries for a carefree and comfortable stay.